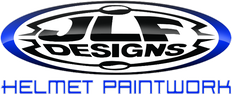 You can download a blank helmet template here. Sketch your design ideas and then either post, email or fax it to us for a quote and for an estimated turnaround time.
The first step to your painted helmet is to send or email us with your design ideas. These can be sketches, descriptions, cuttings from magazines or anything else that helps you describe the design you are aiming for. To help you explain your ideas please use the questionnaire here.
If you need a specific shade of colour, or a precise colour match we will need pantone or paint colour reference codes, or an item for us to colour match. If no colour references are given we will use a colour at our discretion that we feel will work best with your design.
Any logos/pictures must be supplied in a good quality high resolution format (either EPS or AI ). All logos that may need editing before being suitable for use will be charged extra.
Sometimes it is difficult to visualise how your ideas will look on a helmet, so our design layout service is the ideal way to see how your helmet will look when painted.
Prices for the design layouts start at £50 + VAT for a side view, £70 + VAT for side and rear views and £90 + VAT for all round views.
This charge is for a computer design based on your instructions, you can email your ideas using the design Questionnaire here.